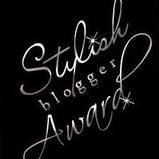 Wooow! This is great. I really wanted to have an award. Honestly, it's like a dream come true. Hahaha! I was so envious with those who received awards before and I keep on telling them that I wish to have one too. But it seems like no one read my comment. O well, for the very first time and I got two! Thank you Mommy Trish and Mommy Eliza for giving me this award! 🙂
Here are the rules for receiving this award:
Thank and link back the person who gave you this award.
Share 7 things about yourself.
Award 15 great bloggers you know.
Contact these bloggers and tell them about the award.
Here are 7 things about me:
I am addicted to stick-o ,chicken skin and piercing.
I pierced my left eyebrow, lower lip, tongue, belly button, ears
I want to sleep forever.
I wanna learn how to swim.
I wanna be a math genius.
I am a frustrated writer, singer, lover and dancer.
I love gravy!
And now, time to share this award to other beautiful bloggers! 🙂
Rikka
Kikamz
Kizuna
Kat
Joy
Adin B
Jes
Shydub
Bonz
Honney
Mama Mia
Peachy
Pinx
Nicquee
Jona